ANNY NORD - Skor som gör skillnad
ANNY NORD ett nytt svenskt skomärke som sakta men säkert tar mark, inte bara med sina coola, stilsäkra och vassa styles, utan för att de även vill göra en märkbar förändring för utsatta Kvinnor runt om i världen. ANNY NORD kontaktade Pompidoo när de ville ha hjälp med sin Lookbook AW19. Vi hjälpte bl a till med bildhantering, sättning och tryckfärdiga pdfer.
Följande nedanstående engelska information om ANNY NORD, är hämtad från deras hemsida www.annynord.com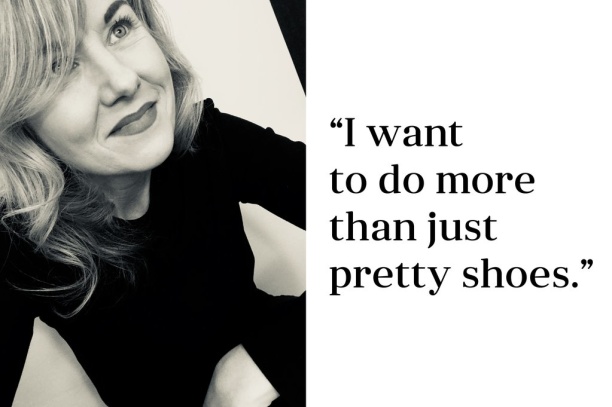 "I often say I was born in a shoe box. Our family shoe tradition started in 1963 when my parents, Sven & Svea Håkansson proudly opened the door to their very first shoe store. Shoes became life and life became shoes in our family. So, I guess I have shoes in my blood, but I want to do more than just pretty shoes.
Throughout history, women have made their voices heard through fashion. I want to work actively with the ANNY NORD brand through different design projects and collaborations to support women's equal rights and to help make our voices heard."
MIA BENCKER
Founder, Creative director & Anny's granddaughter
ANNY NORD is a woman that is Nordic in spirit but a citizen of the earth. She is creative, independent, equal, strong, goal-oriented and empathetic.
(-Yes, she totally has the Pippi Longstocking gene!)

We'd like to think of her as ageless, because age is such a non-important thing, but let's put it this way:
She is a woman. Not a girl.
Anny is also the name of founder Mia Bencker's grandmother.
Anny and her husband Håkan were hard working small business owners in the south of Sweden. She was a strong but very kind and tolerant matriarch with a big heart. During World War 2 she opened up her home to refugee children.
She was also a very creative and artistic woman who spread light and happiness to the people around her.
We hope to channel some of Anny's spirit of creativity, lightheartedness and tolerance through our shoes.
We made a shoe to make a point.
Our deconstructed super soft slip-on sneaker WE RUN THIS is specially designed for our 2018 campaign for Women's rights in cooperation with awesome Swedish women's rights organization KVINNA TILL KVINNA www.kvinnatillkvinna.se
All profits from this shoe will be donated directly to Kvinna till Kvinna to support them in their fight for women's rights all over the world. At ANNY NORD we believe in women helping women and we want to be part of making this planet an equal one.
After all, it is called Mother Earth.

The brand ANNY NORD was born in 2016 when founder and creative director Mia Bencker teamed up with some fellow shoe lovers and former colleagues from Tiger of Sweden.

All ANNY NORD products are designed at our head office outside the coastal town of Båstad in Sweden. We work closely with a few, quality factories in Portugal, Italy and China where shoemaking is a handcraft and good and ethical working conditions are established.
Our design is based on a Scandinavian clean aesthetic expression with a touch of humor and individualism. We are inspired by strong women and Mother Earth.
Longevity, social and environmental responsibility, and the love for fashion and shoes, as well as for the fellow human being, make the basis for all ANNY NORD design.

We wish more girls and women around the world could have the same chances as we do in Scandinavia;
To be able to live a safe, equal, independent and educated life.
We think these should be basic human rights,
no matter where you live or what your gender is.

We believe in women helping women;
Each season ANNY NORD supports, or
co-operates with, a specific organization
to help spread awareness of equality and women's rights.
ANNY NORD'S 2018 women's rights campaign is called "WE RUN THIS",
all proceeds from this campaign will be donated to Swedish
women's rights organization Kvinna Till Kvinna.